Regular price
Sale price
$28.00 USD
Unit price
per
Sale
Sold out
Anti-itch Spray offers immediate relief from Unbearable Itching during a herpes simplex virus (HSV 1 & HSV2) outbreak. You can apply on facial, cold sores, and genital area. DO NOT SPRAY IN MOUTH.
Ingredients
Purified water, Clove Oil, Lemon Balm Oil, Peppermint Oil, Witch Hazel
Directions
Hold the bottle 8-12 inches away from infected area.

Apply as needed.
Warning
Stop using product if you experience any additional discomfort outside of outbreak symptoms. May possibly burn if you have open wounds. You're possibly allergic to one of the ingredients. Seek medical attention soon as possible.
Although these products have not yet been evaluated by the FDA , We at Vanquish Care have heard from great authority that this treatment system is convenient, sensory approved and soothing.
That authority is our day to day valued clients with an average of 60 day use whom have experienced the short term and multi-cycle benefits of clean environmentally safe and ethically sourced products.
Share
View full details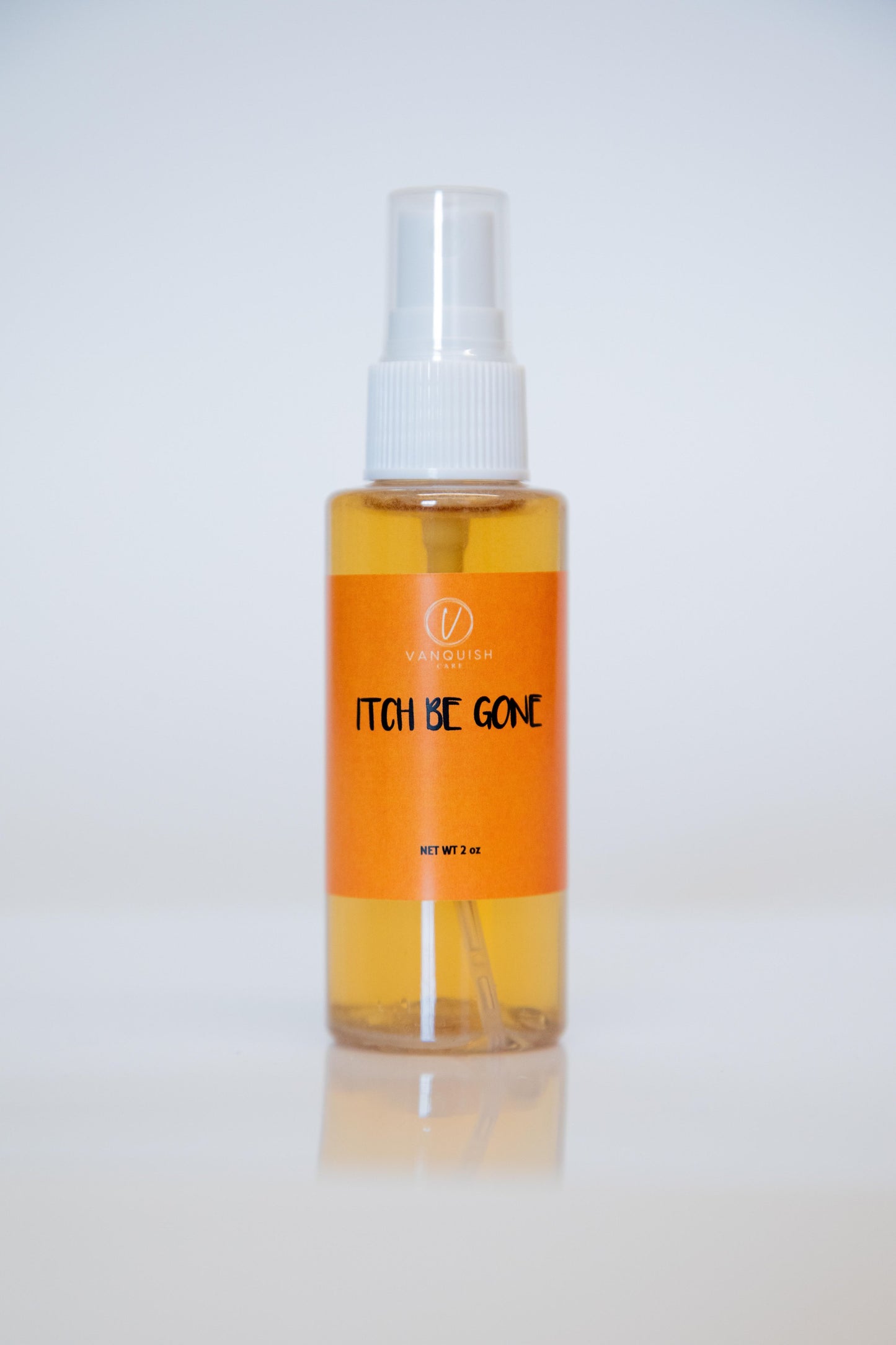 The best product on the market!!!!
It does just what is says on the bottle :) Love it!!!
Thanks so much for this review!! Vanquish Care is here to serve you!
Itch be gone spray
I love itch be gone spray will be order again.
Thanks so much for this review!! Vanquish Care is here to serve you!
RIGHT ON TIME!!!!!
This stuff here is AMAZING....... you can feel the love with this spray. I was kinda afraid to waste more money after trying everything you see, hoping it works. I was like hell why not, I support small black owned business. So it arrived on time in a nice discreet package and labels. So the first product I used right away was the soap. LORD........ it worked so good I felt like a new person. Let me tell you that soap was everything. Nancy (itch) stop once that soap hit. I was like this can't be real. So I hopped out the tub like a old school Chevy on 2 wheels to see about this spray.... BABY BABY. This here is a game changer. When I say this stuff works and it last. I did spray 4 times because I love the smell and the feeling it makes. I was like what did she put in this stuff. So I am driving and thinking when was Nagging Nancy (itch)going to start back, she gone....then I thought, yeah I had a lot of thoughts after using this. What if she stops making this or what if something happens to her who's going to make this for us. Then I said let's not think like that just buy more. Then I thought what if my review make everyone go buy it it won't be none left for me to buy. So then my anxiety kicked in and now I am on my way to buy more so I can keep it stocked. DON'T WALK RUN AND ORDER SOME NOWWWWW!!!!!!!! SHIPPING BETTER THAN AMAZON!!!!!! Not only did she make a product that works, she actually put love into it. Thank you!!!!!!!
Thanks so much for this review!! Vanquish Care is here to serve you!